"Karl G. Maeser, we salute you," said President Thomas S. Monson just before he gave a swift tug on the cord to unveil a larger-than-life size bronze statue of the man who pioneered higher education in Utah.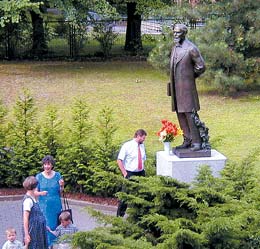 "He was a pioneer in every sense of the word," said President Monson, "where a pioneer is one who goes before, showing others the way to follow."
The statue, a replica of a monument on the BYU campus near the entrance of the building that bears Maeser's name, was dedicated on the lush, green grounds of the Dresden Germany Stake Center July 14.
More than 300 family, friends and Church members gathered on the grassy slope behind the stake center to honor the man who migrated to Utah and was commissioned by Brigham Young to go to Provo to establish an institution of higher learning where not even the "ABCs would be taught without the Spirit of the Lord."
President Monson was accompanied by Elder Merrill J. Bateman of the Seventy and president of BYU, Elder D. Lee Tobler of the Seventy and president of the Europe Central Area, as well as Maeser family members and Mayor Lewis K. Billings of Provo, Utah.
"Karl G. Maeser was the first president of the Dresden Branch and was baptized in the beautiful Elbe River near this spot," President Monson said. "He taught in a spirit of love and affection."
Born in 1828 in the city of Meissen, 25 miles northwest of Dresden on the Elbe River, Brother Maeser is considered in education circles to be among the most influential immigrants from Germany to the United States in the 19th century.
He joined the Church at an early age; to avoid the threat of persecution, he was baptized at midnight in the shallows of the Elbe River known as Ostragehege in 1855. To maintain secrecy, his wife was baptized in the same manner five days later. They later migrated to Utah where he became the first principal of the Brigham Young Academy, forerunner to Brigham Young University.
"I am proud to be a successor to Maeser," said Elder Bateman, who gave a sweeping overview of the educational accomplishments of Karl Maeser.
He described how shortly after arriving in Utah, Karl Maeser would push a wheelbarrow while going from home to home of his students to collect in-kind tuition, but often times returning home with an empty wheelbarrow because the parents of his students where as poor as he was.
The desire to place a monument in the city of Maeser's birth began as an idea three years ago by Earl Maeser, a great-grandson. In 1999, he and a German relative approached the Oberbuergermeister or mayor of Meissen with the offer to finance the $40,000 project with donations from family and friends. When it became apparent that the statue couldn't be placed in Meissen, it was decided to place it on stake property in Dresden.
In his comments, Meissen's Mayor Thomas Pohlack spoke of a sister city agreement signed earlier that day with officials from Provo, saying the exchange would pay economical, cultural and educational dividends.
"Dresden is an appropriate location for the monument," said Earl Maeser, summarizing his great-grandfather's life. He described how Karl Maeser stood for stern discipline with a soft heart, and he was 32 years old when he led his wagon train across the plains. He told how Karl received a letter from home stating that if he would renounce his religion he could return home to his former comfortable status.
"He didn't leave monetary wealth behind," Earl Maeser said, "but he left a foundation to build a testimony, and a name with respect for good character."