ALMATY, Kazakhstan — The Kazakhstan Almaty Branch became the first unit of the Church to be organized in the vast area of Central Asia when 44 members and friends of the Church gathered on July 29. Kazakhstan extends from the southern border of Russia in the north to the Himalayan Mountains in the south.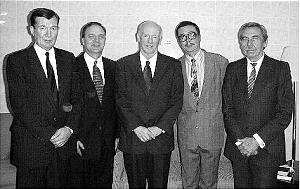 "There are many things happening in Kazakhstan, today," said Elder Douglas L. Callister of the Seventy and president of the Europe East Area, "but none is as important as what we are doing here. Not many in this country know what we are doing today, but the day will come when many will know of us."
The organization of the branch represents the natural progression of a small group of under 20 members that has grown rapidly to include more than 40 members.
Nurlan Kadyrbekov, a recently ordained elder and newly called second counselor in the branch presidency, is typical of many branch members. He and his wife, Alma, were referrals of their daughter, Zora, who joined the Church while studying in the United States. They were taught by branch members and have since been instrumental in the baptism of several friends and relatives.
Because there are no full-time missionaries in Kazakhstan, the branch members have the privilege of teaching and fellowshipping those interested in the Church.
In a few weeks, Brother and Sister Kadyrbekov will travel to the temple with the first group of branch members to receive their temple ordinances. In his testimony when he was sustained, Brother Kadyrbekov reflected on Elder Callister's comments and said, "This is indeed an important event in the history of Kazakhstan and will continue to be the most important event until the day when we have a prophet of the Lord come to lay the cornerstone of a temple in our land."
Almaty members see this branch as the first of many more in this land, a land where the Church received official recognition from the government just recently, on Dec. 19, 2000.