PORTLAND, ORE. — The hum of 150 sewing machines and sergers in action filled the Memorial Coliseum Exhibition hall Oct. 20, as more than 750 volunteers from 16 northwest Oregon and southwest Washington stakes created a temporary factory producing thousands of items for needy babies in the area.
Participants in the "Babies in Need," the second annual multistake humanitarian project, created 1,280 quilts, 815 bibs, 850 stuffed toys, 1,147 pairs of booties, 852 hats, and 525 receiving blankets to be distributed to more than 20 agencies in 14 counties that serve infants and their families. The agencies include hospitals, homeless shelters, farm worker camps and pregnancy counseling centers.
"We hear of desperate needs in foreign countries and feel a desire to reach out and help, but many are surprised to learn the extent of the needs right in our own communities," said Linnell Mikkelsen of the Oregon City Oregon Stake and project coordinator of the event. "Of concern to us are the many babies born in difficult circumstances — babies with health problems, babies with young and inexperienced parents, babies born to families suffering severe economic hardships, or babies who for many reasons must go to foster homes."
A year of advance planning and preparations preceded the project by the members, which included the following stakes in Oregon and Washington: Beaverton, Beaverton West, Cedar Mill, Gresham, Gresham South, Hillsboro, Lake Oswego, Longview, Oregon City, Portland, Portland East, Rainier, Tualatin, Vancouver, Vancouver East, and Vancouver West.
An 18 year-old woman tied 18 quilts with a friend who is a cancer patient in the hospital. One 80-year-old woman with serious health problems made 40 quilt tops. A stake president took quilts home to tie during family home evening. The Cedar Mill Oregon Stake brought 500 quilts already made.
Church members were also joined by others in the community who wanted to be part of the project. Michelle Binder of Milwaukie, Ore., a professional seamstress and mother of two, had stopped reading the newspaper because she was overcome with feelings of vulnerability regarding her family's safety, due to recent events of terrorism and war. Two days before the event she had an impression she should just thumb through the day's paper and saw a notice about "Babies In Need." She knew it was exactly what she needed to do and quickly arranged to attend with a few friends.
"The chance to be able to do something good and help other people makes you feel good in the right spot," she said as she sewed. She is already planning to participate in the 2002 project.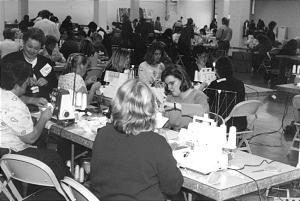 A small audience often gathered around the work station of Julio and Kim Enciso of the Portland Oregon Stake, professional tailors and converts to the Church, who worked at lightning speed on their own industrial sewing machines and sergers. They were eager to be part of the project. "We love to sew," Sister Enciso said. "It is our passion!"
Michael Hansen, Cedar Mill stake, had never sewed or quilted before, but quickly took it up with another male friend, Paul Chirdon, also from Cedar Mill stake. "They gave me a needle, five minutes of instruction, and said, 'Go to it!' " Brother Hansen said as he basted red yarn into a quilt to be tied.
After the event all of the items made were divided between the 16 stakes to be distributed to the agencies within their communities. Sister Mikkelsen pointed out that some parents served by the donor agencies are in such dire need they don't have blankets in which to take their babies home from the hospital.
Birthright Pregnancy Counseling Center in Portland will be one agency receiving items. "I love it whenever a representative from one faith background or another steps forward and helps," said Martha MacIver, the organization's executive director. She and her crew of 30 volunteers work with pregnant women of all ages helping them develop a strong sense of confidence and self worth so that they are better able to care for their babies. Sister Mikkelsen added that all of the goals originally set for the number of products to be made had been tripled on the day of the multi-stake humanitarian project. She also pointed out they had started out with no budget and yet had ended up with more than enough supplies through contributions. "This is a good job to have if you want to see miracles," she said.