Continually innovating and exploring, the Mormon Tabernacle Choir and Orchestra at Temple Square presented their traditional Christmas concert with a first-ever collaboration with Ballet West, Salt Lake City's illustrious dance company. Two of the company's principals danced the role of the Sugar Plum Fairy from Tchaikovsky's Nutcracker Suite, Maggie Wright on Dec. 17 and Kristin Hakala on Dec. 18 and for the dress rehearsal on Dec. 16.
Their performances were not the only dance element. A processional of flashlight/candle-bearing dancers came into the immense Conference Center auditorium near the opening of the concert, lending an air of grandeur to the musical performance of the French "Carol to the King."
As has become standard at this annual event, the concert was enhanced by the appearance of two guest stars this year: four-time Tony Award-winning Broadway singer and actress Audra McDonald and veteran movie and television star Peter Graves.
Miss McDonald's talents were showcased in a Michael Davis-arranged medley of African American spirituals, "Rise Up, Shepherd, and Follow," "Sweet Little Jesus Boy," "Children, Go Where I Send Thee," "I Wonder as I Wander," and "Go Tell It on the Mountain." Later in the program she was featured in another Davis medley of contemporary favorites, including "We Need a Little Christmas," "Pine Cones and Holly Berries," "Have Yourself a Merry Little Christmas," "The Christmas Waltz," "Silver Bells" and "Deck the Halls."
In a news conference Dec. 17, she said every year she and her husband make a Christmas gift of Tabernacle Choir recordings to members of his family as they are such keen fans of the choir. "When I told them I was performing with the choir this year, my stock went up on my in-laws' side of the family, so I think I'll get some good gifts this year," she joked.
Mr. Graves has at last grown to look grandfatherly with hair that was already prematurely white four decades ago when he starred in the weekly television series "Mission Impossible." In opening comments at the concert, he jokingly alluded to stock dialogue from the show saying, "Several weeks ago my old friend, Dr. Craig Jessop (choir musical director) called me and said, 'Peter, your mission, should you accept it, is to perform with the Mormon Tabernacle Choir on their Christmas concert.' I was delighted, and I knew I wouldn't self-destruct!"
He recalled an earlier association with Dr. Jessop, then conductor of the U.S. Air Force Singing Sergeants, when Mr. Graves was guest narrator at a Christmas program put on by the group in Williamsburg, Va.
For this year's concert, Mr. Graves gave an abridged retelling of Henry Van Dyke's "Story of the Other Wise Man" as the orchestra and choir performed a background selection from the musical score of the epic motion picture "Ben Hur" composed by Miklos Rozsa. The climax of the program was Mr. Graves' reading of selections from the New Testament about the birth of Christ, with background music from the choir and orchestra building into the majestic "Angels, from the Realms of Glory," with audience members invited to join the chorus, "Gloria, in excelsis deo."
For the concert, Brother Jessop shared conducting duties with assistant director and resident arranger Mack Wilberg. Organists were John Longhurst, Clay Christiansen and Richard Elliott.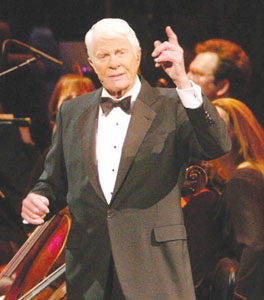 Selections from the concert were reprised Sunday morning for the choir's regular "Music and the Spoken Word" nationwide broadcast and a mini-concert just afterward.
Miss McDonald and Mr. Graves met with the First Presidency in the Church Administration Building Dec. 17 for about half an hour.
E-mail to: [email protected]