Elder Dieter F. Uchtdorf shared an example from his boyhood to demonstrate that "if you trust in the Lord and obey Him, His hand shall be over you, He will help you achieve the great potential He sees in you, and He will help you to see the end from the beginning."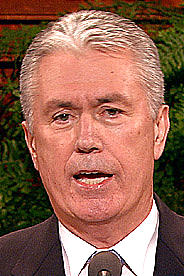 Speaking in the priesthood session, Elder Uchtdorf of the Quorum of the Twelve recounted that when he was 11, his parents operated a small laundry business in their little town in West Germany. He became the "laundry delivery boy" and was required to pedal a heavy, sturdy bicycle pulling a heavy laundry cart. Many years later, when he volunteered to join the Air Force to become a pilot, a strict physical exam showed he had scars on his lungs which were an indication of a lung disease in his early teenage years.
"The doctors wondered what kind of treatment I had gone through to heal the disease," he recounted. He said that it became clear to him that his regular exercise in fresh air as a laundry boy had been a key factor in his healing from this illness.
"If I had only known back then what I learned many years later — if I had only been able to see the end from the beginning — I would have had a better appreciation of these experiences, and it would have made my job so much easier," Elder Uchtdorf remarked.
He told young priesthood holders they are fortunate in that they are taught by prophets, seers and revelators to help them see the end from the beginning.
"The Lord loves you; that is why He has given you commandments and the words of prophets to guide you on your journey through life," he said. "Some of the most important guidelines for your life are found in the pamphlet For the Strength of Youth."
Noting that the pamphlet has a picture of the Salt Lake Temple on the cover, Elder Uchtdorf said, "All the temples have been dedicated for the same purpose: to assist in accomplishing the divine work and glory of God. . . . These temples are sacred structures in which eternal questions are answered, truths are taught, and ordinances performed so that we can live with an understanding of our divine inheritance as children of God and with an awareness of our potential as eternal beings."
He observed that the standards set by the Lord in the temple recommend questions are very similar to the standards found in For the Strength of Youth.