SACRAMENTO, Calif. — A teenager's family-history search for an ancestor blossomed into the colorful pageantry of the Sacramento Temple Youth Cultural Celebration in Arco Arena on Saturday, Sept. 2. The Saturday evening event, preceded by a member meeting with President Gordon B. Hinckley, was a prelude to Sunday's dedication of the Sacramento California Temple.
In looking for her grandfather, Sarah — played by Kaitlin Hancock — and her friends discovered there are many things "More Precious than Gold," the title of the presentation. Their journey through the history of northern California as it relates to the Church was portrayed in music, dance and drama. More than 5,000 youth from the 21 stakes of the Sacramento California Temple district came together to perform after months of preparation. About 10,000 more people filled the arena, home of the Sacramento Kings, to watch.
Academy Award-winning producer Kieth Merrill, who wrote and directed the show, called it a "great experience." Then he added, "With 5,000 kids praying hard, how can you miss?"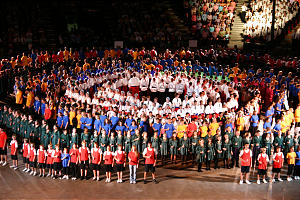 Most remarkable was that the numerous musical and dance numbers, rehearsed in individual stakes, weren't brought together until the day of the hour-and-a-half performance, yet became a magnificent show.
Though for most people the gold rush of 1849 defines the history of northern California, the show's characters discovered the diversity of the area and the spiritual riches added by members of the Church. Maria (played by Desirae Gonzalez) learns more about the Mexican history of her home area, Nelly (Junie Ziong), a Church member, hears that the Chinese predated the gold miners and many other California immigrants. Jonathan (Yjohnzail Mack), a Church member, finds that African-Americans migrated to California to escape slavery. Soni (George Halaufia) learns that Polynesians arrived looking for work. Nick (Erik Eskern) is a struggling youth who is touched by the spiritual roots of the Church in northern California.
The characters' story line was brought to life through ethnic, cultural and national dances and music from their own ancestral lands and many others.
A spiritually moving scene was a quick series of vignettes on the stage and arena floor portraying the life of Joseph Smith and the restoration of the Church.
In the finale, many of the dancers created a colorful spiral on the arena floor as the melodious choir sang a medley of hymns.
E-mail to: [email protected]