SAN DIEGO, Calif. — On his knees, with heavy work gloves on his hands, Macon Harrison scraped through the ashes. He wasn't exactly sure what he was looking for, but the deacon in the Twin Peaks Ward, Poway California Stake, wanted to help in the wake of devastating wildfires in Southern California.
He and the other members of his work crew, clad in the Church's bright yellow "Helping Hands" T-shirts, were sifting through the ashes where a week before stood the comfortable home of an 80-year-old woman.
The crew, one of dozens out on Saturday, Sept. 27, helping people hit by the Santa Ana Wind-driven blazes, was assisting members of the owner's family look for jewelry, dishes or anything else that could be salvaged.
More than 1,500 houses were destroyed and many others were damaged by wildfires in San Diego County the week of Oct. 21. Thirty-eight homes of Church members were destroyed in the conflagration.
The recovery effort beginning Saturday followed up service rendered during the week as flames raged and more than half a million people were evacuated from their homes.
A day after helping with the cleanup, Ross Urry, a teacher in the San Pasqual Ward, Escondido California South Stake, summed up the general attitude of members: "I'll be happy to do whatever is needed, whenever it's needed and I'll do it for as long as it's needed."
He said, "Your heart goes out to the people who just lost their houses. You are grateful that your house is OK and that you have what you have. It makes you want to help the other people who have lost their houses."
The young men of his stake had planned a camping trip for the weekend, but when the emergency arose, the activity evolved into a service project not just for members, but for anyone in need. Instead of going to camp, the young men, joined by the stake's young women, arrived at the stake center.
When high councilor Brad Baker, who had spearheaded the organization of the project almost literally overnight, arrived Saturday morning, "Everybody was Johnny-on-the-spot ready to go," he said. "They didn't even know what they were there to do. But they knew it was a service project and had to do with the fires. They were all over it. Everybody was eager."
They began by building sifter boxes, screen-covered 2-by-4 frames, to be used for sifting through ashes in search of anything worth saving. The sifter boxes were delivered to the site of destroyed homes. Since most owners weren't there, the boxes were left in front of the property with notes explaining what they were. Church-produced cleaning kits delivered to neighboring homes still standing were accompanied by an offer from a Church crew to help in any way needed. Brother Baker said whether taken up or not, the offers were appreciated.
"They were usually uneasy when our people approached them at first because people try to take advantage of situations like this," he said. "But when they found out this was a gift and we were there to help however they needed us, their guard would come down and they would warm up. Then they would start talking about how wonderful it was that our kids were out there doing it."
A nearly identical youth service project was taking place at the same time in the Poway California Stake. In fact, Church members throughout the county were ready and willing to serve.
In fast and testimony meeting the Sunday after the fires started, San Pasqual Ward Bishop Kevan Butler reflected back on what had been done and said, "The testimony of our saints is shown in the way they live their lives."
The fire emergency brought out the best in the residents of San Diego County in general; they immediately and selflessly took care of their own.
Among Church members, there were many stories to tell.
• Feeling fortunate to find a lot in Escondido, Barry and Jennifer Speer decided to build their home themselves. Four years later they were finished and moved in with their three children — Megan, 5; Nicholas, 3; and Alex, 1. Five weeks after their fourth child, Torrey, was born, and 10 months after moving in, wind blew flames toward their house. They evacuated, able to take some important things like photographs and family history. From a distant ridge, Brother Speer watched his house burn down early Monday morning, Oct. 22.
Like most of the member families whose houses were destroyed, the Speers chose to dwell on their blessings — primarily the well-being of their family as well as choosing to increase their house insurance just two weeks earlier, and generous service from fellow members — rather than their loss. They have a comfortable rental home to stay in while a new home is built. They said one of the difficult things is that they will no longer be able to say they built the home with their own hands. But they acknowledged that is greatly overshadowed by blessings.
Sister Speer said, "We learned something from this — be organized. Know where everything is. Have a checklist," because they were so shocked to see flames approaching, they had trouble thinking of what they wanted to save in their limited time with limited space.
• Brian and Errin Arnold, like the Speers, were overwhelmed by the kindness of their fellow members, friends and neighbors. They also chose to dwell on blessings. They and their four children were safe. They, too, had increased their insurance coverage a short time before their house in Escondido burned to the ground. Sister Arnold happily wore her grandmother's wedding ring that was recovered from the ashes.
After being evacuated, the Arnolds said they showed up shoeless early Monday morning on the doorstep of their friends, David and Rebecca Maready of the San Clemente 6th Ward, San Clemente California Stake, who readily took them in. Their hospitality was offered for as long as the Arnolds needed it and they also went to the burned home and helped sift through the ashes.
The Arnolds were also willing to help others. Their neighbor's loss included the burning of his livelihood, a cabinet-making shop. Since the Arnolds' garage survived the flames, they offered to clean it out and let the neighbor use it as a cabinet shop while they rebuild. They also encouraged generous people who wanted to help them to, instead, give gift certificates to the neighbor so he could replace his tools.
• Glenn and Shari Kunz of the Fallbrook 1st Ward, Vista California Stake, built their house mostly of steel, but it still burned. It was among at least nine houses of members in the stake destroyed. Brother Kunz expressed his and his wife's attitude: "It's mostly about just material things. Just things. Our family is fine and that is what is important.
"You can't compare it, but the people of Nauvoo had to leave their homes. The fire is kind of like a mob — it took our home. But they continued on and so will we."
Also in Fallbrook, Bill Ahrend of the Fallbrook 2nd Ward said, "My first thought when I found out our home was gone was that I was sure glad we got the family and dog out safe and the neighborhood was evacuated orderly."
Just as he returned to town and a destroyed home, Brother Ahrend responded to a call from his high priests group leader to help unload a truck of relief supplies sent from Salt Lake City by the Church.
"The Church has always been good to me," he said, "and if you put in your time you'll always receive blessings back."
• Michael Dunham of the San Pasqual Ward, delivered sifter boxes to destroyed homes. Twice he ran into property owners who were leery of him being around their lots. But when they found out he "wasn't the enemy but was there to help," they softened and he was able to have comforting conversations with them. One shared with him the sorrow his family felt over having their dog die in the fire.
"Sometimes the thought and concern is more important to these people than the sifter boxes," Brother Dunham said.
• The home of Bill and Betina Steadman of the Valley Center 1st Ward, Escondido California Stake, was destroyed by fire and their teenage daughter, Jessica, was able to save only a few clothes.
Terry Salisbury, who previously had taught Jessica in seminary and was also in the ward Young Women presidency, felt compassion for the high school senior who would return to school when it opened the following week with virtually nothing. So she drove a distance to San Diego where the Steadmans were staying with family and took Jessica shopping. By the end of Saturday, Jessica had additional clothing and the personal care products that would make trying to return to normalcy easier.
• Dan Abreu of the Valley Center 1st Ward lives in a rural area that was overrun by fire. He and his sons, returned missionary Shawn and teenager McKenon, had to fight to save their own home.
Curtis A. Salisbury, second counselor in the stake presidency, said the Abreus, outdoor enthusiasts, live in such a remote area, the firefighters wouldn't even have known where they live. Brother Abreu and his sons saved the house, but it was damaged and they lost some vehicles and other property.
Not lamenting his losses, according to President Salisbury, "Once his home was safe, he was out helping everyone else," especially other members of the Church like the Steadmans.
Though he never gets recognition, "Dan is the kind of guy who will watch your back," President Salisbury said. "If you need your home and family protected, he's the guy."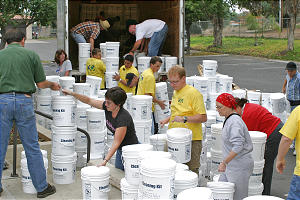 E-mail to: [email protected]