For the first time in the Church's Caribbean Area, a stake conference satellite broadcast to members there originated in the same region, as President Henry B. Eyring, first counselor in the First Presidency, presided at conference sessions Jan. 24-25 in Kingston, Jamaica.
Joining President Eyring were Elder David A. Bednar of the Quorum of the Twelve, Elder Neil A. Andersen of the Presidency of the Seventy, Elder Daniel L. Johnson of the Seventy and president of the Caribbean Area, Sister Silvia H. Allred, first counselor in the Relief Society general presidency, and their spouses.
Also participating were President David W. Gingery and Sister Candace Gingery of the Jamaica Kingston Mission
In two previous such broadcasts throughout the Caribbean, the Sunday morning session originated in Salt Lake City.
The recent Kingston conference proceedings were transmitted to Salt Lake City by satellite, translated into five additional languages — Spanish, Haitian Creole, French, Dutch and Papiamento — and then retransmitted back to 50 stake and district centers on 32 Caribbean islands and to three northern South American countries.
Church members from across Jamaica gathered for the conference's Sunday morning general session, some traveling three to four hours. From the crowded chapel, hallways and rooms of the Spanish Town meetinghouse to those under and around a tent erected outside on the grounds, the attendance numbered 1,675 — far exceeding the average sacrament meeting attendance total for all four districts on the island of Jamaica.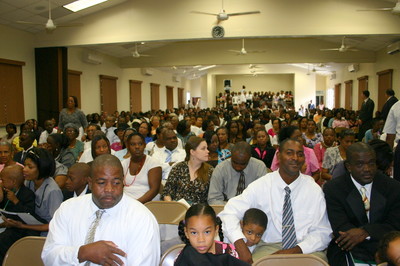 A Saturday priesthood session drew 510 priesthood holders; Relief Society sisters held their own meeting, and the Jamaica Kingston Mission missionaries also enjoyed their own conference session.
Calling the weekend conference "a spiritual feast, in every sense of the phrase," Elder Johnson said the leaders taught the Caribbean Saints "under the inspiration of heaven."
"You could see it in the faces of the members of the Church that were present, how enraptured they were by being in their presence. It was an experience of a lifetime."
Below are excepts from the Sunday, Jan. 25, general session addresses:
President Eyring: Journey to eternal life
Speaking on how keeping covenants and offering them to help others in the journey to eternal life, President Eyring underscored the importance of three obligations associated with covenants: to be clean, to be diligent and to be prayerful.
One cannot serve God unless under the influence of the Holy Ghost, and one cannot have or feel that influence without being cleansed from the effects of sin through the Atonement of Jesus Christ, President Eyring said. Regularly partaking of the sacrament — in faith, humility and a spirit of repentance — allows one to receive confirmation of being clean.
"To keep the commandments and keep ourselves clean will require decisions about what we choose to look at, where we go, with whom we choose to associate, and even what thoughts we allow to linger in our minds," he said. "It is not easy to stay away even from temptation. But if we plead with God for His help, it is possible."
In addition to being and remaining clean, members are under covenant and commandment to be diligent in their service to the Lord, President Eyring said. "On the path home we are to work to take others with us," he added. "In fact we can't go home without giving our best effort to take others with us."
One area of diligence is the Lord's asking that we remember the Savior, President Eyring said. "If we remember Him in love and with a sense of our covenants to give our best to serve and help Him, we will be surprised at how the Lord provides time, energy and opportunities to do sooner than we thought possible what matters most to him and so to us."
Of praying always, President Eyring said prayer is a commandment with wonderful blessings, including the promise that we might not faint from mortal weaknesses and that we "be not overcome" as we face the same enemy who sought to mislead us in the Spirit World.
"It will take God's help not to be overcome," he said. "And that help from God will only come in time and with sufficient force if we plead for it. A prayer at the moment of crisis may be too late. That is why we must pray always."
He shared personal anecdotes about the power of prayer in life. First, prayer helped doctors finally diagnose a serious heart ailment that was causing President Eyring to suffer repeated mysterious fainting and collapsing episodes in the past year; second, prayer helped him overcome recurring recollections when misled by an acquaintance into a setting in Europe and being exposed to inappropriate images.
"I know for myself that through prayer our Heavenly Father offers us His protection against temptation, even in a world where sins seem to surround us," he said. "The fervent prayer of faith from the heart can give us confidence that we will not be overcome by the powers of evil."
Elder Bednar: Converted unto the Lord
Elder Bednar spoke on "the essential connection" between personal testimony and ongoing conversion. "A testimony is a personal knowledge of spiritual truth … the result of the Holy Ghost confirming the reality of truth to our souls," he said.
"Knowing that Heavenly Father lives and loves us, that Jesus Christ is our Redeemer and Savior, and that the gospel of Jesus Christ is true and has been restored to the earth in its fullness in latter days are fundamental components of a testimony."
He cited the scriptural description of conversion as a mighty change of heart, putting off the natural man, a spiritual rebirth and becoming a new creature in Christ. "The essence of the gospel of Jesus Christ entails a fundamental and permanent change in our very nature made possible through the Atonement of the Savior. True conversion brings a change in one's beliefs, heart, and life to accept and conform to the will of God and includes a conscious commitment to become a disciple of Christ."
"A testimony alone is not and will not be enough to protect us in the latter-day storm of darkness and evil in which we are living," Elder Bednar instructed. "A testimony is both important and necessary, but it's not sufficient to provide the spiritual strength and protection we need."
Regarding the Book of Mormon account of conversion of the Lamanites in Alma 23, he noted that. "as many of the Lamanites as were brought to the knowledge of the truth and converted unto the Lord never did fall away. … They were converted unto the Lord —to Him as the Savior, to His doctrine, to His covenants and ordinances, to His commandments — and they never did fall away. I testify that same truth applies to you and to me today," Elder Bednar affirmed."
Using the Savior's Parable of the Ten Virgins, Elder Bednar likened the lamps used as the lamp of testimony and the oil described as the oil of conversion.
"As the wise virgins properly stated, each of us must 'buy for ourselves.' These inspired women were … describing our individual responsibility to increase the light of testimony that shines from our lamps and to obtain an ample supply of the oil of conversion unto the Lord. This precious oil is acquired one drop at a time — patiently and persistently over time. No shortcut is available; no last-minute flurry of preparation is possible."
Elder Andersen: Faith, diligence, patience
Citing Alma 32:41-43, Elder Andersen spoke of faith, diligence and patience.
"Everyone within the sound of my voice has faith," he said. "What a marvelous gift to have. We all love those who are filled with faith, but we should each rejoice at the faith we have, even if our faith is only beginning."
He related his acquaintance with Floripes Luzia Damasio, a 114-year-old Brazilian woman he met who had joined the Church at the age of 103 and the next year made the first of her annual week-long trips to the Sao Paulo Brazil Temple that required a 15-hour bus ride.
To help describe diligence, Elder Anderson spoke of Theophile Plante, serving many years in France first as a branch president and later as a district president. Brother Plante put off a post-retirement move to help lead the district as it became a stake — a transition expected to take a year. It actually took three, after which the Plantes relocated to another city, where he was called as branch president, serving for another 10 years.
Calling mortality "a test where we don't have all the answers to our questions," Elder Andersen spoke of the patience of Lora McPherson, a young woman he knew during the final 18 months of her life. She was diagnosed at the age of 3 with neurofibromatosis — a genetic disorder resulting in the growth of tumors in her body throughout her life and ensuing surgeries, paralysis and death — and yet remained positive with an eye to the eternities.
"We sometimes have to endure in situations that we could never have imagined would last so long or be so difficult, and some things just aren't fair if we look only through our mortal eyes," he said. "Somehow we must wrap our faith and our diligence in the virtue of patience."
Sister Allred: Prayer and scripture study
Prayer and scripture study are "two specific things that are fundamental to strengthen our personal faith and that of our families," Sister Allred said.
"Faith in the Lord Jesus Christ is the foundation of all the other principles of the gospel. This foundation must be steadfast and immovable, like a rock. We strengthen our faith when we pray, believing that God listens to our prayers and answers them according to what is best for us."
Sister Allred said present-day prophets teach Church members continually the importance of family prayer. "Our first lessons on faith are taught as we gather our families in daily prayer," she said, adding "this sacred act of prayer will build unity and strengthen the love among family members."
Personal prayers, she continued, are essential, but of equal importance are family prayers. "Our children will learn to recognize the Lord's hand in all their blessings and they will also learn to ask for divine guidance in their lives as they develop the habit of personal prayers."
In the development of faith, scripture study is just as important as a source of knowledge, truth and power.
"We must read them, search them, ponder them and meditate upon them to increase our understanding of gospel doctrines and of the Atonement," she said. "When we understand the doctrines, we feel the desire to keep the commandments with exactness. When we obey the commandments with exactness, we draw closer to Christ."
Elder Johnson: Coming to a knowledge
Highlighting the Caribbean Saints' diversity of location, culture, language and ethnicity, Elder Johnson reviewed the shared, common beliefs that set members apart from other religions and identify them as members of the Church.
Those beliefs include knowing of the true nature of our Heavenly Father; of Jesus Christ as our Savior, the Firstborn of the Father and His Only Begotten; of the importance of the Atonement, Crucifixion and Resurrection; the role of temples and temple ordinances in eternal life and eternal family relationships; and of influence of the Book of Mormon and latter-day prophets, seers and revelators.
Elder Johnson listed three of the ways how individuals can come to a knowledge of such beliefs.
"One, some of this knowledge is given freely by a loving Heavenly Father to His children, regardless of the religion to which they belong," he said. "It's almost as if it is known instinctively. . . . Two, this knowledge is given to us as we prayerfully study and search the scriptures for answers to questions and to find relief and consolation from problems, tribulations and grief. . . .
"Three, this knowledge is given as we listen to, ponder and apply the teachings of prophets and apostles of our own day."