The Church takes genealogical research seriously. Its FamilySearch.org website receives more than 10 million hits a day, a reflection of Church members' dedication of countless volunteer hours and sacred funds to move the work forward not only for their ancestors but also to assist people worldwide in searching their family histories.
In section 110 of the Doctrine and Covenants, one of the greatest prophecies of the latter days is declared fulfilled when the prophet Elijah appears to Joseph Smith and Oliver Cowdery in the Kirtland Temple to restore the sealing power of families to the earth.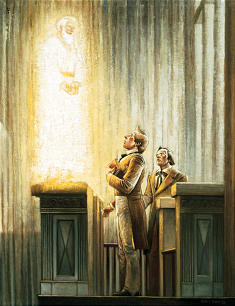 Familysearch.org is easily one of the most popular genealogy websites in the world. More than 150 million people have visited the site since its launch in 1999. The No. 1 non-paid search result on Google for the search term "genealogy research" is FamilySearch.org. The site is sponsored by The Church of Jesus Christ of Latter-day Saints and is free to the public.
More than a billion names are contained in the searchable records on the site and many records are easier to search because they are indexed by volunteers. At present, more than 125,000 indexers from around the world process about a million names a day. Regardless of a person's religion, age or technical expertise, the Church invites them to participate in indexing; all that is required is access to the Internet and a computer. An online application is available in seven languages at Familysearch.org.
The secret is out about FamilySearch.org with more than 15 billion hits to the site since its launch. Discovering more information about ancestors can be exciting and addictive. Dessa Fountaine, a stake family history consultant in the West Jordan Utah Bingham Creek Stake, said, "There is so much information available about your ancestors on the site. In one month, I put together a three-inch binder full of original birth, death and marriage documents as well as biographies for my boss."
The site has research helps, guides, and advice from FamilySearch experts. People can also share their own family history knowledge with others.
Sister Fountaine said, "When you look at a family tree on the site, you can see if there are other members of your family working on your family history work. It's a fantastic place to visit."
FamilySearch is available for both experienced and novice family historians. Help is available through local members as well as online support. This help can be accessed through the family history center network or by contacting FamilySearch Support at [email protected]