SAN SALVADOR, EL SALVADOR
Diego Castro is an outgoing young man with an easy smile and an at-the-ready handshake. Still, the 12-year-old from San Miguel, El Salvador, admits it's sometimes tough being the only member at his school.
His spirits were lifted over the Aug. 20-21 weekend. For one, he was able to attend the dedication of the San Salvador El Salvador Temple with his family and several fellow ward members. And Diego made plenty of new friends with young men and women who share his beliefs, values and spiritual goals.
Uniting with fellow young members reminded Diego that he was far from alone. Diego was one of several thousand young Salvadoran members who performed in an Aug. 20 cultural celebration staged in conjunction with the temple dedication. For months, Mutual-aged members from across the country and from all of El Salvador's 16 stakes have practiced a variety of Salvadoran folk dances celebrating their rich culture and their unified testimonies of the Lord and His newest temple.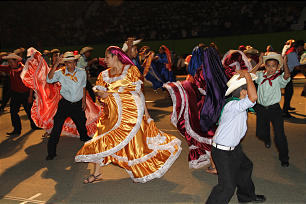 For Diego and countless others, being able to perform their native dances in front of a packed arena that included President Henry B. Eyring and several other General Authorities was an experience not be missed.
Prior to the program, President Eyring, first counselor in the First Presidency, called it an honor to be in El Salvador and saluted the youth's talents and efforts.
"We are proud of your diligence and hard work to bring this program to us this evening," he said. "I know how hard you have worked. I am surprised you don't look tired. But you look happy."
President Eyring passed on the love and greetings of President Thomas S. Monson, adding that the Church president was "a champion" of events that bring young people together and create lifelong memories.
"I bless you that your desires to honor God with your performance tonight will be granted," he added.
The evening was both patriotic and spirit-filled, as the youth danced and sang hymns in tribute to their culture, country, faith and the temple.