SAN SALVADOR, EL SALVADOR
A day before dedicating the San Salvador El Salvador Temple, President Henry B. Eyring and several other General Authorities visited the president of this Central American nation and spoke of their shared concern, hope and optimism for all Salvadorans.
President Eyring, first counselor in the First Presidency, enjoyed a 45-minute discussion with President Mauricio Funes in his presidential palace on Aug. 20. Their visit marked the first time a member of the First Presidency had met with a president of El Salvador.
"It was a wonderful experience," said President Eyring. "President Funes is a gracious, competent and kindly person who wants what is best for his people."
Salvadoran first lady Vanda Pignato also participated in the meeting that included discussion of the Church's humanitarian efforts in her country and the Latter-day Saint tradition of service and self-reliance.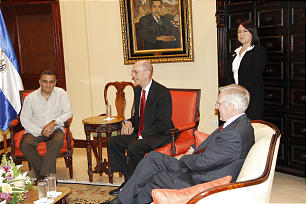 President Eyring was accompanied by Elder D. Todd Christofferson of the Quorum of the Twelve, along with Elder William R. Walker and Elder Enrique R. Falabella of the Seventy. Elder Walker is executive director of the Temple Department; Elder Falabella presides over the Central America Area. A Salvadoran Area Seventy, Elder Carlos Rivas, also participated.
President Eyring said he was impressed with the Salvadoran leader's respect for the Church and of his desire to better the lives of his people.
"[President Funes] talked mostly about lifting others and his concern for people who have been, in various ways, left behind," he added.
President Eyring also commented on the first lady's compassion and the humanitarian goals she and her husband share with the Church.
"The president could sense [in our discussion] that we share many of the same things — both the hope and optimism for his people."
President Eyring explained to his hosts "that the greatest thing we can do is change the hearts of the people. Teach them that they are children of God so that no matter what their challenges or difficulties are they will know that things will be better."
Elder Christofferson told President Funes that it's the Church's desire for "our members to become some of the best citizens in this or any other country."
President Eyring also talked to the president and first lady about the Book of Mormon and expressed his belief that El Salvador "is a promised land."
At the conclusion of their visit, President Eyring presented President Funes with a bronze statue depicting Mormon pioneers walking alongside a covered wagon. He told the president that his own ancestors were part of that pioneer experience that blessed generations of members.
Elder Walker added President Eyring "was wonderful and tender" in his interaction with President Funes, and frequently spoke of gospel principles.