PROVO, UTAH
Teachers are essential in helping people become converted and close the gap between knowledge and actions, Brother Russell T. Osguthorpe, Sunday School general president, said during BYU's Campus Education Week on Aug. 17.
"We know what we ought to do, but then our actions sometimes don't meet that image of what we know we should do," Brother Osguthorpe said. "… If we could help people live what they know, things would really get better in a hurry."
The key to helping oneself or others change actions comes through the conversion process, he said. Although some think conversion comes at baptism, Brother Osguthorpe said, that is just the beginning.
"What does it mean to be converted?" he asked. He noted, "Usually we think that if we have a testimony that's conversion, and we've got it. When people are fully converted they don't fall away."
But just as the Savior taught the apostle Peter in the New Testament, being converted means more than just having a testimony.
Using the words of Elder Dallin H. Oaks of the Quorum of the Twelve, Brother Osguthorpe taught that the gospel challenges all to be converted, which requires individuals to do and become.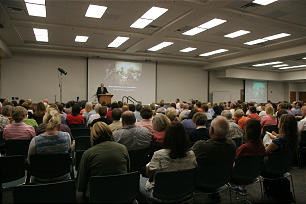 "To have a testimony is to know and declare," Brother Osguthorpe said. "Conversion is more than believing or knowing. To have a testimony is to know and declare. When we are converted we do and become."
Becoming converted as a true disciple comes from living the gospel, he said.
"When we actually live the principle of the gospel … when we do better in the living, we become changed," he declared. "Because when we live the word of God, He changes us."
Drawing from his own experiences, Brother Osguthorpe shared how, even recently, he and his wife changed how they begin their scripture study each day. Previously, they had started their study sessions without first saying a prayer.
"Every time we do something we are inspired to do … blessings will come," he said. "One of the things this has taught me is, when you start to do something new, when you make a change, when we try and bring this action closer to what we know we should do, it doesn't happen instantly and it's not a perfect straight road ahead. It takes time to change a habit, and not one try will do that. It takes multiple tries and we have to keep trying."
The key, Brother Osguthorpe said, is changing desire.
"We do what we want to do," he said. "The trick is wanting to do what we know we should do. And that's when our actions come close or match what our knowledge of the gospel is. …
"Conversion is one thing at a time. It is not a single event. It is a lifelong endeavor. Conversion is very life long. We keep getting converted. We keep learning and growing and progressing. This is the process of conversion. We are on that path trying to do what the Lord would have us do."
Essential to the process of conversion is knowledge, Brother Osguthorpe said.
"We have to know," he emphasized. "Knowledge is very important; knowledge of the gospel is absolutely essential. But the doing of it is even more essential."
In order to teach for conversion to occur, instructors must teach the doctrine, and then live it. Then the blessings come, he said.
"Each time we gain new insight into the doctrine it helps us," he said. "My prayer is that we will leave with some new hope in developing habits of discipleship, that when we learn and when we teach we will always be looking for what can we do to become more like our Savior, because that's the becoming part, this is the discipleship part."