Hurricane Sandy is due to hit the East Coast by early evening, Monday, Oct. 29, and last through the night with flooding and high winds anticipated. Ten states in the area have declared a state of emergency and homes are being evacuated in high-risk areas in anticipation of the storm that could affect 60 million people, reports Reuters. The stock markets closed Monday for the first time since Sept. 11, 2001, and will remain closed at least through Tuesday and longer depending on the storm's impact. Schools and businesses along the East Coast are also closed.
Projections for the storm's impact remain bleak.
The Church of Jesus Christ of Latter-day Saints released the following statement:
"The Church continues to monitor the situation and is prepared to respond as needed. Prior to the storm, local leaders were in contact with Church members to encourage necessary preparations. Mission presidents are taking precautions to protect the safety and well-being of missionaries," said Scott Trotter, a Church spokesman.
"There will undoubtedly be some deaths that are caused by the intensity of this storm, by the floods, by the tidal surge, by the waves. The more responsibly citizens act, the fewer people will die," Maryland Governor Martin O'Malley told reporters, according to Reuters.
Some in affected areas are not heeding these warnings, according to interviews with local Church leaders.
Brooklyn
Bishop Blake Anderson of Bensonhurst Ward in Brooklyn said his ward council reached out to the ward members and neighbors in areas of the ward such as Coney Island, and encouraging them to evacuate. Although Coney Island is within zone A, an area ordered to evacuate, some members have not left their homes.
"We are a bit apprehensive on that. I'll be honest," Bishop Anderson said.
The ward has a phone number set up so people can text and receive help they need and leadership is staying in contact with those in high risk areas to make sure they are OK. Because the membership in the area is so spread out, they are mostly having to help from a distance.
"Given the area, it's not suitable to drive around the area and knock on their doors," he said.
Jeff V. Nelson, president of the Brooklyn New York Stake, said the work in his stake is in "able hands" at the ward level. Two areas in his stake are in high-impact areas. He said bishops and Relief Society presidents are reaching out to people in their wards.
New Jersey
Church leaders are also guarding against the effects of the storm and have put their home and visiting teachers to work.
In the Brunswick New Jersey Stake, President Gregory J. Stokes said the area's members are fairly self-sufficient at this point. He said communications with other leaders in the area are going well and he recently took part in a conference call with stake presidents along the East Coast to ensure everything is going well.
"We are as prepared as he can be," he said.
Elder Robert B. Smith, an Area Seventy who works with southern New Jersey, Delaware and the southeast portion of Pennsylvania, said although these areas will be among the hardest hit areas, they have a well-established emergency plan in place, including approximately 70 amateur radio operators in the area. Visiting and home teachers are contacting members and reporting back to bishops, who report to stake presidents, who, in turn, report to Elder Smith.
"We feel very confident about it. Hopefully nothing serious happens that we can't help with"
Roughly four hours before the storm was due to hit Atlantic City, N.J., Morristown New Jersey Stake President Bruce D. Jones said they had not yet lost power. He said his biggest concerns were the potential widespread loss of power and flooding of the major rivers that run through the stake. Although the water level is low now, the predicted rainfall may cause the rivers to overflow, he said. However, because they have experienced similar states of emergency, they are well-prepared to meet the storm.
"We've kind of perfected the drill, I think," President Jones said.
Starting Friday, every priesthood leader contacted their home teachers, who contacted those they taught to assess needs. The members in his area know to report to their home and visiting teachers first, who will report to their proper authorities. To ensure communication, he has a conference call scheduled with each of the bishops every night this week.
By Tuesday or Wednesday, he said, the members of his stake will be able to reach out and help by activating teams of people to respond as needed. The ward is also equipped with equipment, power saws, shovels, rakes, brooms, dust masks and other supplies to assist with the volunteer effort.
Maryland
Baltimore Maryland Stake President Craig T. Halsey, said they have been in contact with Elder Jack N. Gerard, the Area Seventy for this area. Although there are power outages in several areas, everyone was reported safe and no homes reported damaged. He has an outreach system in place for those with more immediate needs. Because several areas in Baltimore are subject to flooding, they will likely need to enact those emergency response plans.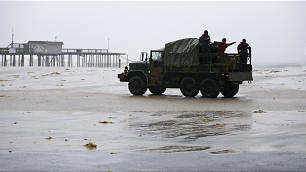 Massachusetts
President Kevin B. Rollins of the Boston Massachusetts Stake has been in contact with all the bishops in his area and ensured every ward has an emergency plan. He said they are mostly concerned with single parents and older members in the stake and have made efforts to make sure they are taken care of.
Pennsylvania
Philadelphia Pennsylvania Stake President Jordan P. Peterson said members of this stake have reached out to the elderly, widows, single moms and the physically challenged. He also said some families have taken in those who did not have a place to stay. His stake has also been contacted by the Red Cross and Church members volunteered at shelters late Sunday night. He has also organized ward groups who are ready to help with the cleanup in the aftermath of the storm.
As of the time of publication, there was steady rain and heavy winds reported and some power outages in the affected areas, but no reports of injuries to residents or serious damage to property.