PHOENIX, Arizona — Much of the attention given to President Russell M. Nelson speaking at the Arizona Member Devotional Sunday night, Feb. 10, was the large audience — an estimated 65,000 at State Farm Stadium. But the day had its share of small-group settings and personal greetings as well.
Those small-group interactions ranged from a one-on-two TV interview to a brief question-and-answer session with 10 young single adults. He greeted family members who attended the devotional and key civic, educational and religious leaders who attended receptions.
In one such reception, President Nelson and his wife, Sister Wendy Nelson, asked questions and imparted perspectives with four of Arizona's prominent leaders — Arizona Gov. Doug Ducey; Phoenix Mayor Thelda Williams; the Most Reverend Thomas Olmsted, Bishop of the Catholic Diocese of Phoenix; and Arizona State University President Michael Crow.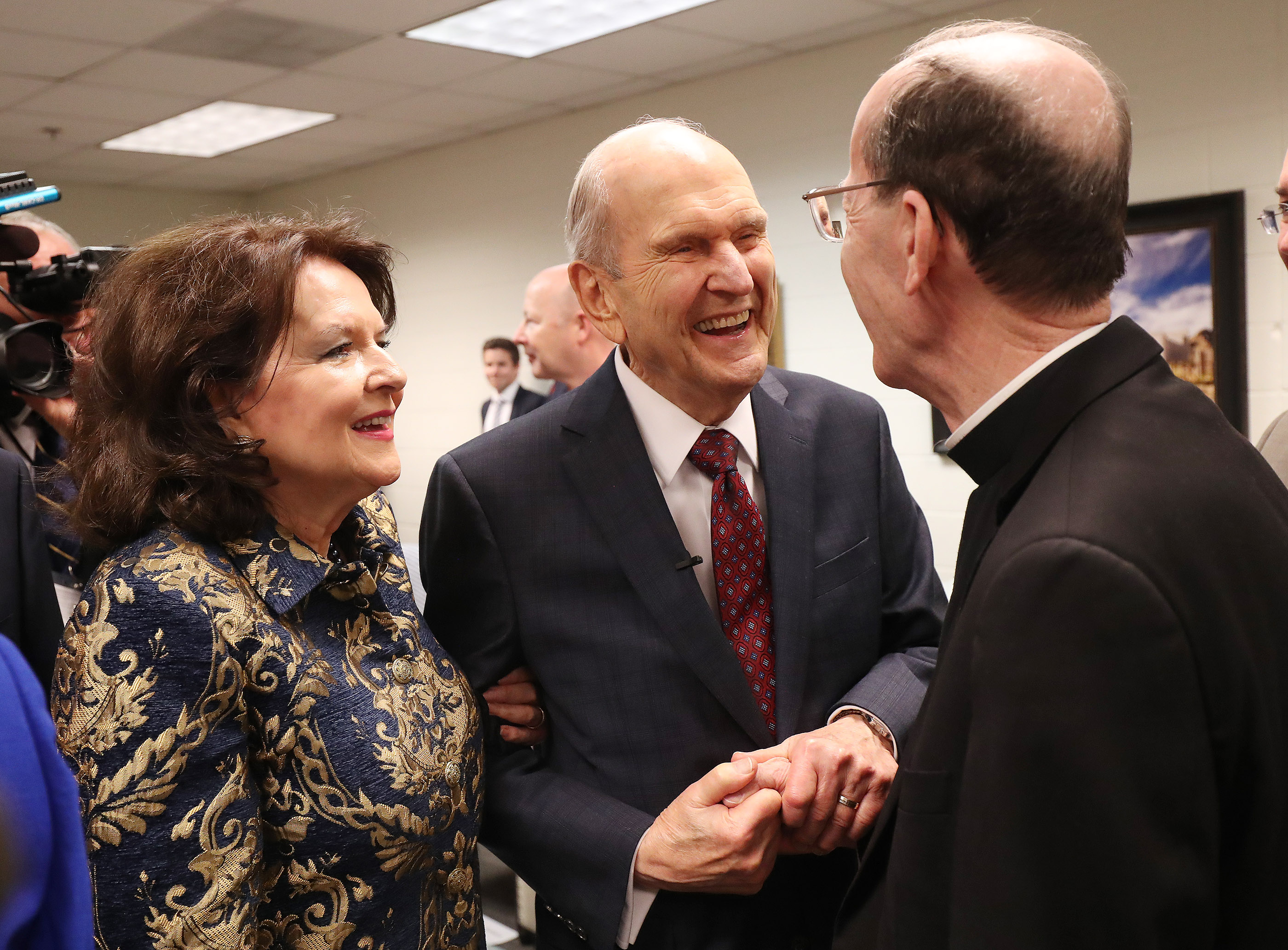 Elder Lynn G. Robbins, a General Authority Seventy and president of the North America Southwest Area, also participated, joined by his wife, Sister Jan Robbins.
The four invited guests shared with the Church News their expressions on each entity's relationship with the Church.
Ducey, who is starting his second gubernatorial term, said: "Arizona and The Church of Jesus Christ of Latter-day Saints share a special and longstanding relationship that goes back to Arizona's founding days. The Church has a well-established legacy of service and is known for its collaborative spirit with communities across the state and other faiths. The Church's contributions to Arizona have helped make this state the diverse, unique and remarkable place it is today."
Williams, who is serving a second time as interim mayor during her third four-year term as city councilwoman, cited Phoenix's partnerships with community- and faith-based organizations as means to strengthen and improve the city.
"Over the past few years, I have worked alongside leaders in The Church of Jesus Christ of Latter-day Saints to help organize service projects that better our neighborhoods and communities," she said. "Phoenix also appreciates the charitable efforts of the Church to help people in need. The Church's work may not always be recognized or known to the greater public, but it is felt and deeply appreciated."
The Most Reverend Olmsted expressed gratitude for the invitation to meet with President Nelson as well as for the ongoing dialogue and mutual collaboration that the Catholic Diocese of Phoenix has with The Church of Jesus Christ of Latter-day Saints.
"In the public square, we have often worked together to promote the common good, to defend religious freedom and to protect the life and dignity of every human person," he said. "Our conversations and effective cooperation have afforded us the opportunity to develop friendships and fraternity."
Crow acknowledged the relationship between ASU and the Church — from cooperation with the ASU campus-surrounded Tempe Institute of Religion to close associations with the Church's BYU-Pathway Worldwide online learning program — as reflective of the university's commitment to work closely with faith-based communities in serving students and their families.
"As part of ASU's effort to cultivate and learning and living environment that is welcoming to faith-based communities," he said. "The Church of Jesus Christ of Latter-day Saints and its members have been tremendous partners and have continuously demonstrated strong interest in and support for higher education, learning and degree attainment.
"The commitment of the university and the Church to the successes of students and learners of all ages," he added, "has allowed us to build a very successful partnership that can serve as a model for other public universities and other faith-based communities."
The Nelsons were joined by President Dallin H. Oaks, first counselor in the First Presidency, and his wife, Sister Kristen Oaks, for a second, much larger pre-devotional reception with several dozen additional leaders of government, education, charity and faith organizations.
Spencer Blake, a local television anchor/reporter with KTVK and KPHO stations in Phoenix who is also a Church member, conducted an interview with President Nelson and President Oaks. That interview was shared among various television stations in the Phoenix area, including the Spanish-language Telemundo and Univision stations, with Blake asking President Nelson if he wanted to share a message to those listeners like he had in the Caribbean and South America during last year's devotionals there.
"Keep the commandments — that is all," President Nelson responded in Spanish.
Rebecca Adams, 24, of Mesa, was one of 10 young single adult members selected to meet briefly with the Nelsons and Oaks. She was visiting friends in Utah as a young teen and accompanying them on an annual holiday trip to see the Christmas lights at Temple Square. She accepted an invitation to attend worship meetings — and it led to her baptism at age 15, with her parents' consent.
She was hoping to score a ticket when she first heard of the devotional — and later came her selection to not only meet President Nelson but to submit a question. Hers came from her own experience: "How I can share the gospel with my family when that doesn't always seem like a natural thing or just takes a lot of courage?"
Adams said she was looking forward to having the truth "sink even deeper into my heart" by hearing the prophet. "And having the chance to meet him — there are no words. I'm so excited to just be in his presence and to feel of his love and to feel of the Savior's love."
Also, before the devotional, President and Sister Nelson spent time with several family members who joined them at the devotional, making four generations of Nelsons at the event.