While the education of one's mind regarding things of the world is very important, of greater importance is the education of one's spirit and the things of eternity, President M. Russell Ballard told students gathered at the Salt Lake Institute on Sunday, Feb. 10.
President Ballard, Acting President of the Quorum of the Twelve Apostles, joined University of Utah President Ruth V. Watkins in speaking to students during the evening devotional.
"You'll start to see, the older you get, what matters most in life," said President Ballard, adding that it won't be how much money one makes or other worldly possessions.
"I'm sure the Lord wants you to be happy. I think He wants you to be successful. I think He wants you to accomplish your educational objectives in life. But He also wants you to stay focused on what matters most. That is the continual education of your eternal spirit that lives forever."
Members of The Church of Jesus Christ of Latter-day Saints understand their responsibility to the community that includes living exemplary lives. "We have a prophet of God, Joseph Smith who restored the fullness of the everlasting gospel of Jesus Christ, under the direction of our Eternal Father and the Lord Jesus Christ. The teachings, the principles, the covenants, the ordinances of eternal salvation have been restored in clear terms."
There are answers to life's questions that are found in the Restoration of the gospel that are found in no other place, he said. "There are answers in the scriptures, there are answers in the teachings of apostles and prophets who hold the same keys and authority and power as did Peter, James, and John and the other apostles in their day."
President Ballard advised students to keep their antennas up: "Watch for those opportunities where somebody may be a little discouraged and need your love and friendship."
"Too often I hear of students who suffer from anxiety or depression," he said. "It saddens us when we hear that anyone would be so discouraged that they would think of such a thing as suicide. What can we do? How can we help anyone who is struggling with some of life's problems?
"The best answer that I know of was given to us through the life and the ministry and the Atonement of the Son of God."
Matthew 22:37-39 tells us, "Jesus said unto him, Thou shalt love the Lord thy God with all thy heart, and with all thy soul, and with all thy mind. This is the first and great commandment. And the second is like unto it, Thou shalt love thy neighbour as thyself.
Underscoring his call as an Apostle of the Lord, President Ballard counseled listeners who have succumbed to temptation. "Fix it. It's called repentance. … Perfection is attainable but it's a long ways away. But we can get there."
He then left the students with a blessing of peace for whatever concerns or struggles they have. "You have a Father in Heaven, you have a Savior who loves you. Take it up with them. Turn to them. Listen. Learn. Respond and be obedient to the things that matter most, and you'll be protected."
President Watkins focused her remarks on the importance and value of community.
"I think I am talking with a group who clearly believes in community as I look at this gathering tonight and your partnership and your community and your engagement in the collective good with each other," she said.
Watkins was reminded of when she and her husband, Bob Young, had first moved to Utah from Illinois in 2013. Relocating caused them both some measure of anxiety as they worried about whether or not they would be accepted or belong.
But soon, one by one, their neighbors came with food, introduced themselves and welcomed the Watkins to the neighborhood.
"I'd really never seen anything like that," she said. "And one thing that I learned very quickly, there was an incredible community where we, by accident, wound up living that were incredible supporters of the University of Utah, and much more importantly, incredible supporters of each other."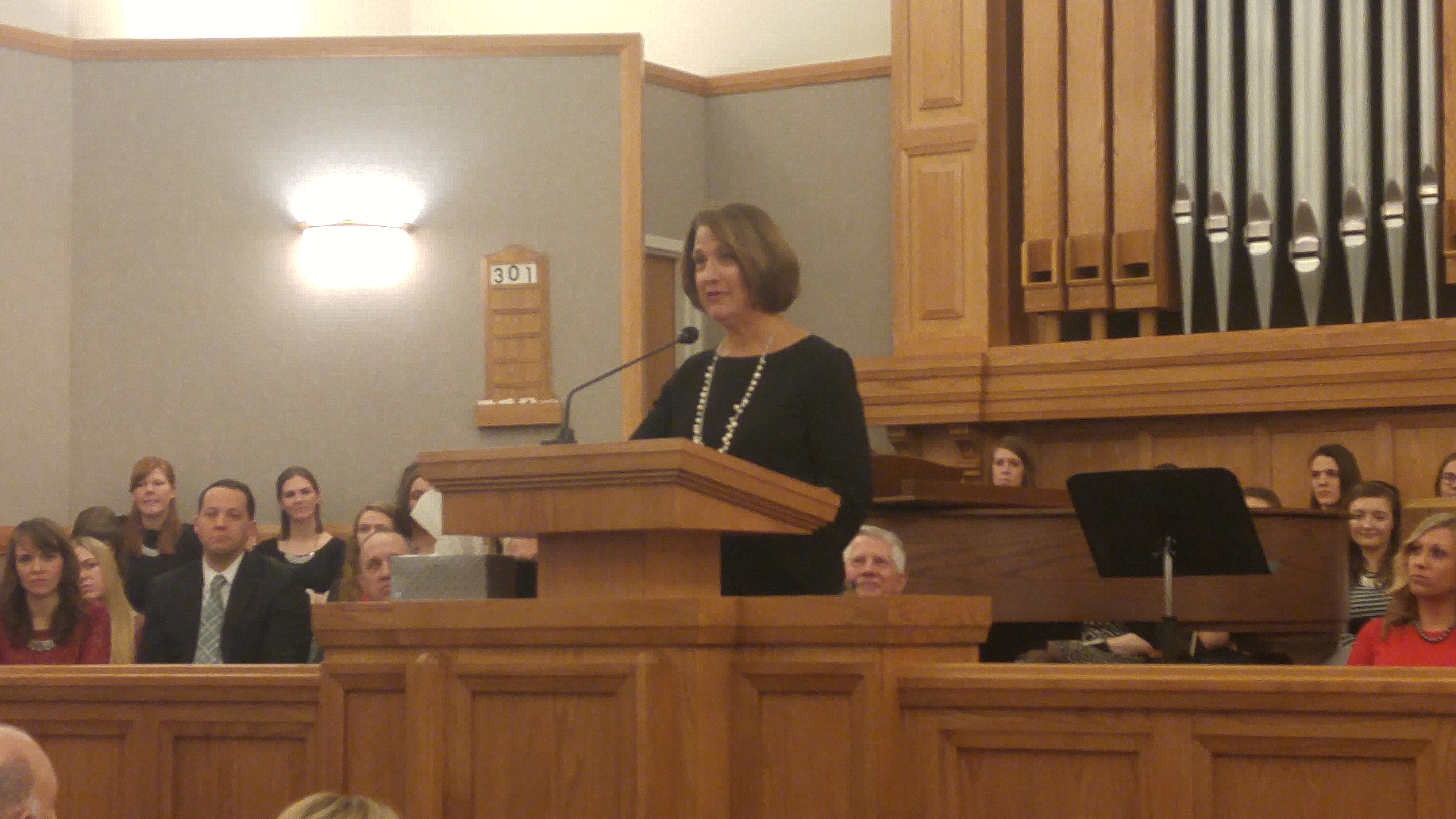 Belonging and community matter to all, especially students, she said. "Students succeed when they feel they are welcome. Students succeed when they feel they belong. Students succeed when they feel welcome in a community."
The University of Utah brings together people from all faiths and backgrounds. Watkins said that it is important that the university support students' growth in their faith.
"Every student at the U. should be able to find their faith community here, where they share values, the opportunity to learn and to grow. We at the U. recognize the important role that the Institute plays in attracting people to the U. and supporting students through their success, in fostering graduation rates, in helping us build community. We're very, very grateful for the work at the Institute."
"I really appreciated the president's words and her devotion to the cause of bringing us together as a community and not just as a school," said Karen Gill of the Riverside Ward, Salt Lake Pioneer YSA Stake. "I like that she said that students succeed when they have a sense of community and a sense of purpose."
Gill also expressed gratitude for President Ballard's encouragement to stay focused on the things that matter. "He reminded us that we have a Father in Heaven and a Savior that loves us. And if we have any questions, we can take it up with Them."
Like Watkins, William Ray Burk of the Riverside Ward, Salt Lake Pioneer YSA Stake, has moved from one community to another and found belonging. By attending Institute, he's found a sense of community. "Everyone is so open and willing to reach out to each other and so kind to each other," he said.
President Ballard's message reminded him to focus on the spiritual side of education, as well as to remember who he is and that Heavenly Father and Jesus Christ "are rooting for you."
"That helps me a lot with all the things that I need to do, whether it be education or knowing how I can minister to someone."
Two things in the devotional stood out to Lisa Richardson of the Madison YSA Ward, Salt Lake Pioneer YSA Stake. First: "The education of your spirit is more important than the education of your mind."
And second, "If you have a problem or if you're struggling, you have a Father in Heaven. You have a Savior. Take it up with Them."