PLEASANT GROVE, Utah — Sporting a white shirt, tie and name tag, Orin Voorheis sat in his electronic wheelchair smiling at people as they entered the American Fork Deseret Industries on July 11. As always, his wife Chartina was by his side.
During their morning hour of greeting, a woman approached the couple and asked if she could take a photo with Orin. She explained that nine years earlier she had come to the D.I. with her son who was then dealing with some personal challenges. Orin Voorheis welcomed the family. His upbeat friendliness lifted the 12-year-old boy's spirits and left a positive lasting impression.
Nearly a decade later, the woman thanked Voorheis and walked away eager to tell her now 21-year-old son about their encounter.
"We had no idea. We were just out in public, doing our thing. Perhaps if we had decided to stay home and not get out, it wouldn't have happened," Chartina Voorheis said. "Sometimes we can bless people in ways we don't know."
Orin Voorheis has been a blessing in many lives, thanks to his survival 21 years ago.
On the evening of April 9, 1997, Elder Armondo Barry and his companion, Elder Orin Voorheis, were serving together as missionaries for The Church of Jesus Christ of Latter-day Saints in the Argentina Buenos Aires South Mission. Walking home under a drizzling rain, the two young elders were within a block of their apartment when three figures emerged from the shadows. One thief demanded Barry's money while the other two — one with a knife and the other holding a gun — grabbed at Voorheis' backpack. Barry heard the gunshot and saw his companion fall to the ground.
In the desperate moments that followed, Barry cradled his companion's head in his lap and gave him a simple priesthood blessing that proved to be prophetic. He blessed Voorheis that he would live, marry in the temple and still receive all previously promised blessings.
"His parents' idea was to go to Argentina and pick up their dead son. That's what they were expecting to do. He wasn't expected to live by pretty much anyone," Barry said. "But everything in that blessing has come true."
Despite low expectations that he would survive the shooting, it's all come to pass. Voorheis is still here, more than 21 years later, living a quiet, happy life with his wife and family in his hometown.
Although the anniversary comes and goes each April without much fanfare, it serves to remind family members how grateful they are to have Orin and appreciate all he's accomplished, said his mother, Florence Voorheis.
"We know the anniversary. It isn't anything special," she said. "But he's a special part of our lives and he's special to a lot of different people."
Today Orin Voorheis has some upper body control and spends most of his time in a wheelchair. The bullet affected his motor functions but he can still see, hear and understand people.
Described by many as a "big tease" and "prankster," Voorheis is still going strong thanks in part to many friends and neighbors who volunteer time each day to help with his physical therapy and other needs. Those who serve him often come away feeling grateful and uplifted by his positive attitude.
"It's incredible. A lot of people in wheelchairs don't live very long. Their lungs have a hard time because they don't get the exercise they need. It's kept him alive. It really has helped immensely," said Chartina Voorheis, Orin's wife. "He's quite a guy. It shows that everybody has a reason to be here."
Orin and Chartina
Chartina Jarrett didn't know Orin Voorheis before his mission, but she's been at his side for nearly all of the 21 years since.
Only a few months after he was flown from Argentina to Utah on Jon Huntsman Sr.'s private jet, Orin Voorheis was moved to Provo for physical therapy and rehabilitation.
Chartina Jarrett was attending Brigham Young University at the time while her aunt was part of the Voorheis' ward. Chartina's aunt suggested she help the recovering missionary.
Over the next five years, Orin and Chartina developed a special bond and fell in love.
"I knew pretty early on that I would marry him someday, sometime within the first month," said Chartina Voorheis, who served a mission in Russia. "I could just tell he's amazing, resilient and fabulous."
After returning to Utah in April 1997, Orin's mother requested that he be permitted to continue wearing his missionary name tag because many people pray for the missionaries and she hoped those prayers would help her son. He was released in November 2002 so he could get married, Chartina Voorheis said.
With his parents helping him to get down on his knee, Orin Voorheis finger-spelled "Will you marry," then pointed to himself and her to indicate "you and me." She accepted.
The couple married in the Manti Utah Temple on Dec. 26, 2002. The sealing ceremony was performed by his mission president, Stephen B. Oveson, who also served as a General Authority Seventy for six years before he died in 2013.
Now happily married more than 15 years later, Chartina Voorheis takes care of Orin while teaching U.S. history and advising the student government at Lone Peak High School, where the two often supervise at dances, sporting events and other activities.
She does her best to accommodates his loves: sci-fi/fantasy audiobooks, listening to his scriptures in Spanish, artwork, classic rock, gardening, motorcycles, going for rides and holding babies. He has earned the nickname "Uncle Cookie" for spoiling his many nephews and nieces with treats, and draws pleasure by handing out fruit snacks to other children who come to visit. One of the Voorheis' favorite activities is going to the Mount Timpanogos Temple each Thursday afternoon to do sealings.
Wendy Clark, a ward member whose son grew up with Orin, said she and others wondered if Chartina realized what she was getting into when she married Orin, but has come to see her as an "angel."
"She can see the long-term, eternal perspective," Clark said. "She saw him as who he was and fell in love with the Orin that's in there. She's amazing."
Whether it's struggling to communicate with her husband, getting his equipment to work or waking up in the night to find him choking on his mouth guard, Chartina Voorheis is quick to acknowledge divine help, answered prayers and many helping hands. She is happy and has no regrets.
"Heavenly Father is very kind to us. We are super blessed," she said. "We see tender mercies every day in big ways and small ways. A lot of it comes through other people."
Already ministering
Friends, family and fellow Latter-day Saints in the Pleasant Grove community have ministered to the Voorheis for the last two decades.
It started near the end of 1997 when Orin Voorheis came home. People donated materials and labor for a home renovation project that catered to his special needs. Since then each ward in his stake has taken a monthly turn signing up to help with his physical therapy for two hours a day while his wife is at school.
While some may feel a little timid at first, all come away with a new friend and a better outlook on life.
"We are just normal people with a unique situation. Orin has challenges and could be so mad at the world, but he's not," Chartina Voorheis said. "He's never been bitter about it, never wanted to trade places with anyone, never been angry at the guy who shot him. It's just part of life."
Mindy Stailey, who met Orin Voorheis for the first time in February, was impressed by his happy disposition and felt "the most incredible feeling in his home," she said.
"It was honestly a true introspection for me," Stailey said. "He helped me to see what is really important. I can be so thankful for so many things that I take for granted. Beauty is all around us and happiness is always available to anyone in any circumstance. I can't wait to visit with Orin again."
Clark agrees.
"I come away feeling I've been served," Clark said. "He does so much more for my soul. I always feel better after I've been with him. I see the world differently. I feel differently about myself, my life and my problems. I see how he handles his situation with a big smile on his face, and I know I get more out of it than he does."
Scott Fugal, the Voorheis' bishop, said people sign up the first time out of sense of duty. They go back because they love being there.
"You realize just how special those two are and you want to be around them," Bishop Fugal said. "It's been a unifying thing for our ward and stake to be able to serve him. You realize it's not for him, it's more for us."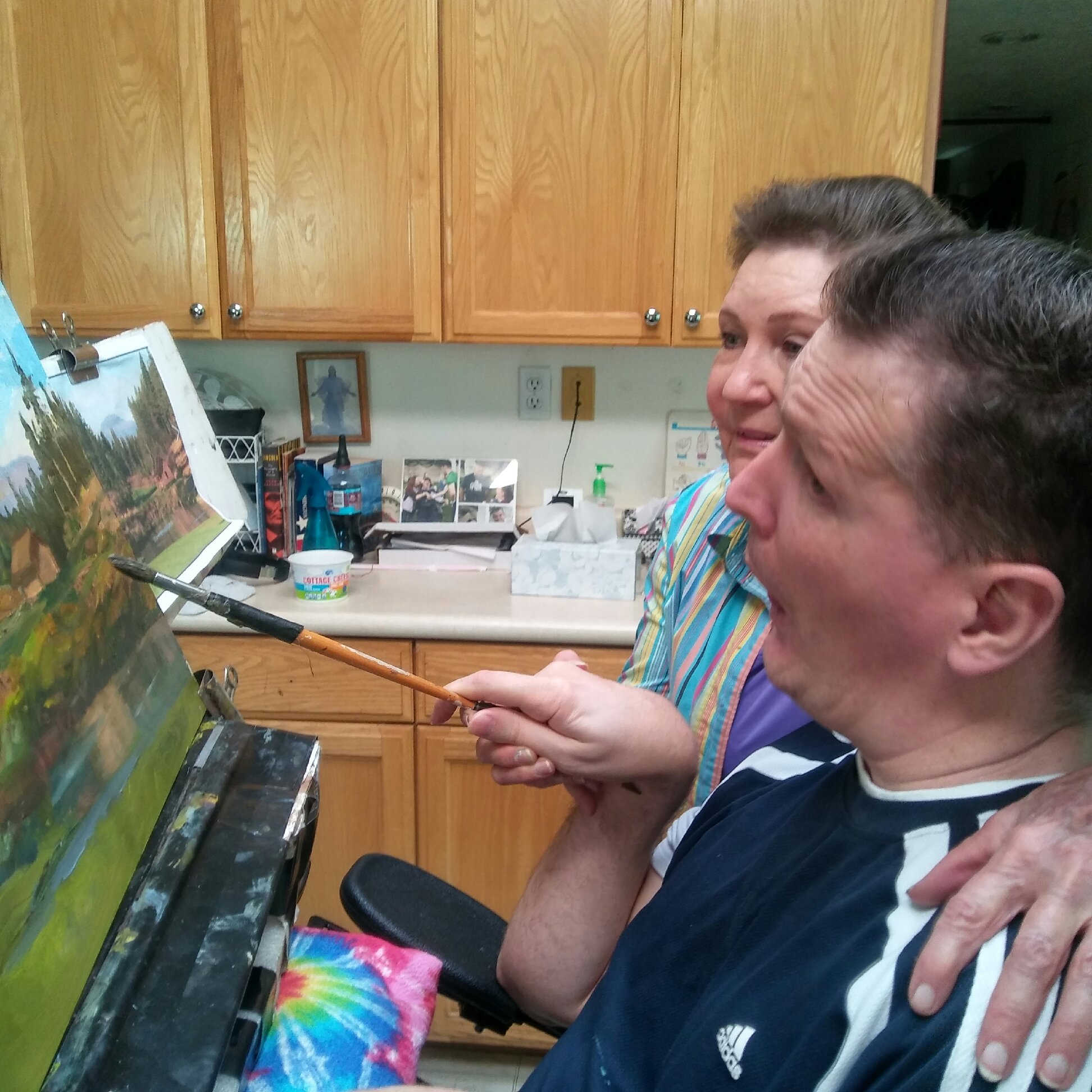 Bishop Fugal, a seminary teacher, once took 17 students to meet the Voorheis and said it was one of the highlights of the year.
"He's always trying to make a connection with people," Bishop Fugal said. "He shook every one of their hands, joked with them, smiled and laughed with them. Those kids have remembered that all year."
Speaking of handshakes, one way Voorheis likes to tease people and demonstrate his strength by holding a person's hand until they say "please." He does the same with hugs. Much to Chartina's dismay, Orin once held a General Authority's hand for an uncomfortable amount of time in the temple until the leader finally said "please," she said.
Another time, Brandon Edgecomb, who worked as an aide to Voorheis and became a friend for life, decided he was going to pull his hand away without saying the magic word.
"About five minutes later I had to admit that I was not as strong as him. I had to ask for permission to get my hand back," Edgecomb said. "He has a super strong handshake. Everybody knows that Orin can beat you in an arm wrestle."
Because of his experiences, Edgecomb is considering a career in the medical field. He says Voorheis has taught him a great deal about the joy that comes from service.
"He lives a beautiful, wonderful life that he finds a lot of joy in," Edgecomb said. "Orin has had some circumstances in his life that would seem to dictate a life of sadness or a life that most people would say wouldn't offer much joy. But he is such a positive, happy guy. It's a huge example to me that we don't have to choose to let the things that happen to us define us."
In response to the kindness shown to them, the Voorheis look for ways to give back. Whether it's cookies, muffins, flowers or a humorous birthday card, Orin Voorheis loves to make people happy, his wife said.
'Unwavering faith'
Orin Voorheis now serves as an adviser to the young men of his ward. He faithfully shows up to activities and regularly helps 15-year-old Kyler Francom with his fast offering route. It's something Francom looks forward to each month.
"He inspires me," Francom said. "He teaches me without words how to live life. He's always happy. I've never seen him sad. No matter what you do he makes it fun. After you serve him, he usually tries to do his best to serve you."
When asked if what happened to Voorheis on his mission affected Francom's decision to serve, the teenager said it actually made him more eager to go.
"If he can go out and have that happen to him and still be a faithful member that goes every week, and has one of the strongest testimonies of anyone I know, then that bears witness to me that a mission, no matter how it ends, can still give you a really strong testimony," Francom said.
Dixie Oveson, President Oveson's wife, remembers the doctor's grim prognosis when they were told the bullet went through Voorheis' brain stem. "He's not going to live through this and you probably wouldn't want him to," she recalled. "But that wasn't the prognosis the Lord had impressed upon my husband." His survival has resulted in many blessings for many lives, she said.
Oveson hopes people look at Orin Voorheis and see "unwavering faith in the Lord's plan for His children," as well as the power of family and positive thinking.
"I think it all depends on your outlook, your attitude and which way you turn when you feel like the disasters of life are closing in," Oveson said. "You can become bitter, questioning, doubtful, or you can turn to the Lord and let Him help you through it."